Purpose
To meet the growing need for the best and most effective short-term camping program possible for patrons of Seven Mountains Scout Camp, we developed the Campmaster Corps to allow units to interface with seasoned adult leaders when arriving and leaving camp. The Campmaster Corps is a strong, well-oriented group of leaders who officially represent the Council while at camp and help the Camp Ranger carry out needed duties.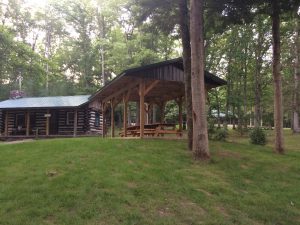 Apply to serve as a campmaster
• Provide a central point of contact for visitors
• emergency contact
• checking in/checking out
• issuing of equipment
• orienting units to camp and facilities
• opening/closing of event areas
• ensure needs of units are met
• coordinate among units to share resources
• Ensure all safety standards are met according to Camp Policy Manual
• Assist in protection of camp property
• Work closely with the camp ranger
• Complete a short report of units attending, resources used, and problems
• Wear official Scout Uniform at all times while on duty
• Minimum 21 years old, recommended 25 years old
• Currently registered in the Juniata Valley Council
• Have completed Youth Protection Training
• At least two years experience as a registered adult volunteer, with a minimum of 6 months in the Juniata Valley Council
• Familiarity with Seven Mountains Scout Camp
• Recommended: completed New Leader Essential/Specific Training, and the Outdoor Leader session
• Recommended: Wood Badge training
A yearly schedule will be made by the Camping Committee to assign a Campmaster for each short-term weekend camp, which is maintained in the Council Service Center.
The Campmaster is housed in the Health Lodge, bedding and food not provided.
Duty times are generally Friday, 6:00 pm to Sunday, 2:00 pm. Exceptions may be made based on number of activities and units at camp.